Details Matter. Particularly with niche audiences, and more so with firearms and firearms accessory marketing. Firearms demand a level of responsible acuity as the 4 Rules of Gun Safety, hearing protection and properly mounted optics are all vital and necessary to safe firearms handling.
The marketing challenge isn't just to capture inattention but to relay expertise through visuals. A detail perceived as a minor "oops" internally can have a long-term impact on your audience. Trust that the company's talent knows its customer.
Details Matter. From the top down, everyone involved in a project should have a critical eye for what the audience will see in the piece, not just copy, specification, and brand accuracy.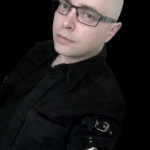 From building the Kimber firearms brand from virtually nothing to the juggernaut it is today; to forging Leupold Optics' first steps into digital and building a world-class team of social media, UX, and eCommerce specialists; to leading SIG Sauer's Electro-Optics marketing: Lynn has been instrumental in the leadership and development of epic brands and their growth for the outdoor and firearms industries since 1994.
Born, raised, and living in the Pacific Northwest, Lynn brings to Gunland an insightful eye to modern Design Thinking and Business Strategy. Tackling the Wicked Problems of an industry with many.