Here at GUNLAND, we're excited to see the introduction of a publication that was developed in collaboration with NAAGA's Philip Smith (National African American Gun Association): CALIBR Magazine.
We received the first issue in the mail a month back, and have been pouring over the pages. It's great to see stories about firearms users, not just stories about guns. CALIBR delivers.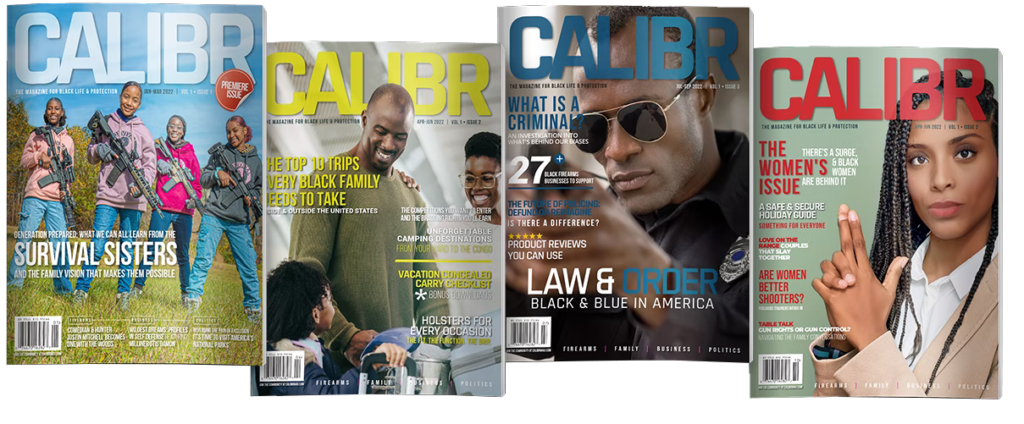 Chock-full of inspiring stories that lift the voices of Black artists and culture influencers with meaningful respect for the Second Amendment; like Atlanta painter and sculptor Alfred Conteh, in an article by Sandra Stephens
With exceptional video vignettes in their online content which supplements the magazine content, like this short piece for Badass, Take-No-Prisoners, Pistol-Packin' Mary Fields
Be sure to subscribe, and support!
ABOUT CALIBR
CALIBR MAGAZINE™ is a firearms lifestyle publication for African-Americans covering family, business, and politics. CALIBR MAGAZINE™ celebrates the fusion of African American gun ownership and Black culture, unlike any other publication. Our readers are motivated to experience their Second Amendment right to bear arms with their love for food, travel, fashion, music, sports, and more.
JOIN CALIBR COMMUNITY: HERE
Not just a magazine subscription, BECOME A MEMBER in exchange for more value and surprises.
Get access to a nationwide community of people just like you [not another Facebook group…a virtual space of our own]
Tell us about your firearms lifestyle, weigh in on stories, become an ambassador, & WIN PRIZES